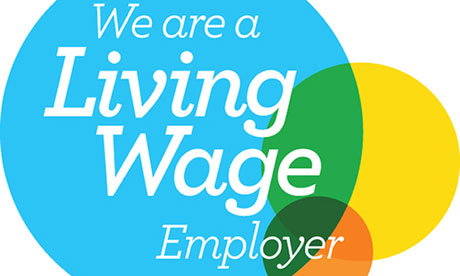 Hey everyone and welcome back to my blog!
Happy Living Wage Week!! Now most of you won't be aware of the fact that this is actually a real "thing" but it is and am really excited that it is happening!
I am a huge supporter of the living wage and I hope that by the end of this post, you will be too!! So no more dilly dithering (such a good phrase) let's get too it!!
What is the living wage?
The Living Wage is an hourly rate that is the equivalent to what a person needs in order to live a decent life. The Living Wage is calculated at £7.65 an hour and therefore sits slightly higher than the current Minimum Wage which currently only stands at £6.31, it has been calculated by the Centre for Research in Social Policy at Loughborough University. (Inside London it is calculated by the GLA and its £8.80).
Currently in the UK there is no statutory requirement for the Living Wage to be paid, and nor should there be, business should however be encouraged to pay it whenever is possible. For example Ed Miliband's latest policy idea which you can see here.
Are there any benefits to the Living Wage?
Yes, yes and yes!! The Living Wages brings with it many positives, both for the individuals and the British public, and while some Tories oppose it (let's not forgot they also opposed the Minimum Wage) the Living Wage is broadly supported by all parties!
The Living Wage is actually very good for business! Of those that pay it more than 80% of employers believe that the Living Wage had enhanced the quality of the work of their staff, while absenteeism had fallen by approximately 25%. Two thirds of employers reported a significant impact on recruitment and retention within their organisation. 70% of employers felt that the Living Wage had increased consumer awareness of their organisation's commitment to be an ethical employer. Following the adoption of the Living Wage PwC found turnover of contractors fell from 4% to 1%.
The Living Wage is good for the individual. The Living Wage affords people the opportunity to provide for themselves and their families. 75% of employees reported increases in work quality as a result of receiving the Living Wage. 50% of employees felt that the Living Wage had made them more willing to implement changes in their working practices; enabled them to require fewer concessions to effect change; and made them more likely to adopt changes more quickly.
It actually saves the country money. The more people are paid the less that the Government spends on Working Tax Credits and other benefits.
It's good for society. It means that less people are living in poverty.
Check out the Living Wage website here, to see what you can do to help.